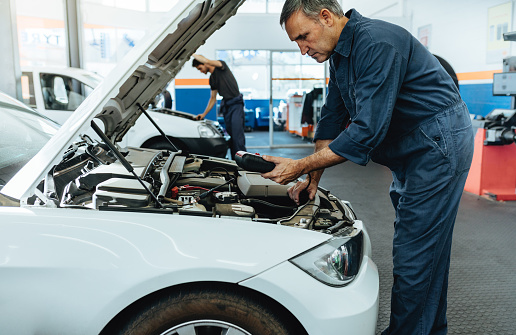 If you've been in an accident, European Collision Center's Dodge Body Shop in San Francisco CA can get your domestic vehicle back in shape in no time. The scope of repairs after a collision can be daunting, whether your doors are crumpled or your fender is dented. Our Dodge Collision Center can help you assess the damage, repair it, and get your vehicle back on the road–all while helping you to navigate the complicated insurance questions that often come with post-accident bodywork.
Were you in an accident?
European Collision Center is a Dodge Collision Center that can help your vehicle look great even after an accident. Or perhaps you need Dodge auto body work after a minor fender bender. We can use state-of-the-art repair techniques that make it look like your car was never even damaged. We'll even complete interior and exterior detailing services to help your car look factory new. With years of expertise repairing high-end European vehicles, our service technicians know exactly how to match any shade of paint, and how to blend any damage out seamlessly. Before you know it, our Dodge Collision Center will have your car looking brand new and ready for the road, whether you have years of driving ahead or are planning to trade up for a new vehicle soon.
We offer two convenient locations in the SOMA/Mission District and Bernal Heights/Dog Patch/Bayview area. With evening and Saturday hours available, we can help you no matter what time your accident or fender-bender occurs. Check out our website for more information on our Dodge Body Shop in San Francisco CA. You can view our testimonials, see our gallery of before & after bodywork, and fill out a form for a free service estimate. Or you can contact us by phone during business hours at (415) 649-7617.